Discussion Forum
»
General
»
Telecon tomorrow (Thursday) @ 5 pm Eastern time
Hi all! Telecon tomorrow (May 24 in North America, May 25 in Australia) at the regular time: 5 pm Eastern (2 pm Pacific, noon Hawaii, 23.00 European, 7 am Eastern Australia). Lots (of both software and hardware work) done in the past 2 weeks! -- I'll send a summary this evening. Discussion items for tomorrow's telecon include: flight/telescope plans and tests; construction, drop testing, and other tests of the new gondolas/payloads; light sources and light source modelling; goniometric and pre- and post-flight calibration; propulsion work; nanosat bus and payload solid models; computing / website / the new TWiki forums and e-mails; grant applications; and recap of schedules. Here's how to connect: 1) Open Skype on your computer (note that of course, you should first install Skype,
http://www.skype.com
, on your machine if you haven't already). 2) In the "Contacts" menu, add me ( jalbertuvic ) as a contact, if you haven't already. 3) Just wait for me to Skype-call you at the usual time (5 pm Eastern, 2 pm Pacific). 4) If there is any trouble, or if you don't get a Skype-call for some reason and would like to join, please just send me an e-mail (
jalbert@uvic.ca
). Here's the tentative agenda: I) Flight & telescope plans, and upcoming tests II) Construction, drop tests, and other forms of tests of the new gondolas and payloads here in Victoria III) Diffused light source and its modelling, pre- and post-flight calibration, and goniometric calibrations IV) Solid modelling V) Computing/website, including recent flight control and simulation progress. VI) Grant applications VII) AOB Talk to you all tomorrow, thanks! justin --
jalbert - 2018-05-23
Hi all! Here's a quick rundown of ALTAIR balloon work done over the past weeks, plus the minutes of our last telecon (attended by Arnold Gaertner (NRC) and me) -- my apologies for the delay! -- please just reply with (or let me know) any corrections -- thanks! : We completed the update to the propulsion axle that we had begun 2 weeks ago (and described in the minutes there:
https://wiki.heprc.uvic.ca/twiki/bin/view/Forum/ForumGeneral0010
), and then (back on May 14) we did a very successful drop test:
and, following that, we did the quick repair of the sacrificial axle extensions as intended, and quickly got the payload ready to go again. We then tested that the GPS was working (it was) by taking the payload outside and turning it on there. Next steps, instrumentation-wise, are to do a outdoor drop test from 10 meters up, so that we can test that the parafoil opens properly, and also to make a fix to some PWM register transient issues that cause the propulsion on one motor to speed up occasionally and unexpectedly. Our ALTAIR summer undergraduate students Aravind Shaj, Patrick Ryan, Afif Omar, and Hannah Swan have now each successfully installed the ALTAIR AIFCOMSS software:
https://github.com/ProjectALTAIR/AIFCOMSSwithCUPredictorTest
on their Windows PCs, and then I added updates to the instructions, per each of their documented experiences, to (hopefully) cover all the problems that they encountered. I'll work on completing its porting to, and updates and instructions for, working on Mac OS this weekend. Then we'll work on updating and improving the flight prediction code itself -- and also, after that, see if we can successfully simulate some form of station-keeping over a region of land (using, of course, the actual wind forecasts and data from NOAA -- which the predictor uses), and also reasonable values for drag, propulsive thrust, battery power (as well as some battery recharging with future lightweight solar panels), etc etc. Machinist Chris Secord has finally finished, and powder-coated, the 12"; diameter aluminum sphere that will function as our pre- and post-flight photometry cross-check device, and here's the result of his work:
I then blackened the interior of the neck (and the interiors of each of the mini-necks for each of the four photodiode monitors):
It is now all ready for us to use our Avian-B paint to paint over the powder coat (Avian-B sticks far better over a powder coat than directly on aluminum, since Avian-B does not contain etch primer). The sphere should thus be coated and fully completed in the next couple of weeks! Mark Lenckowski has completed the stabilized pole for the new 10-meter-high drop test setup at Victoria: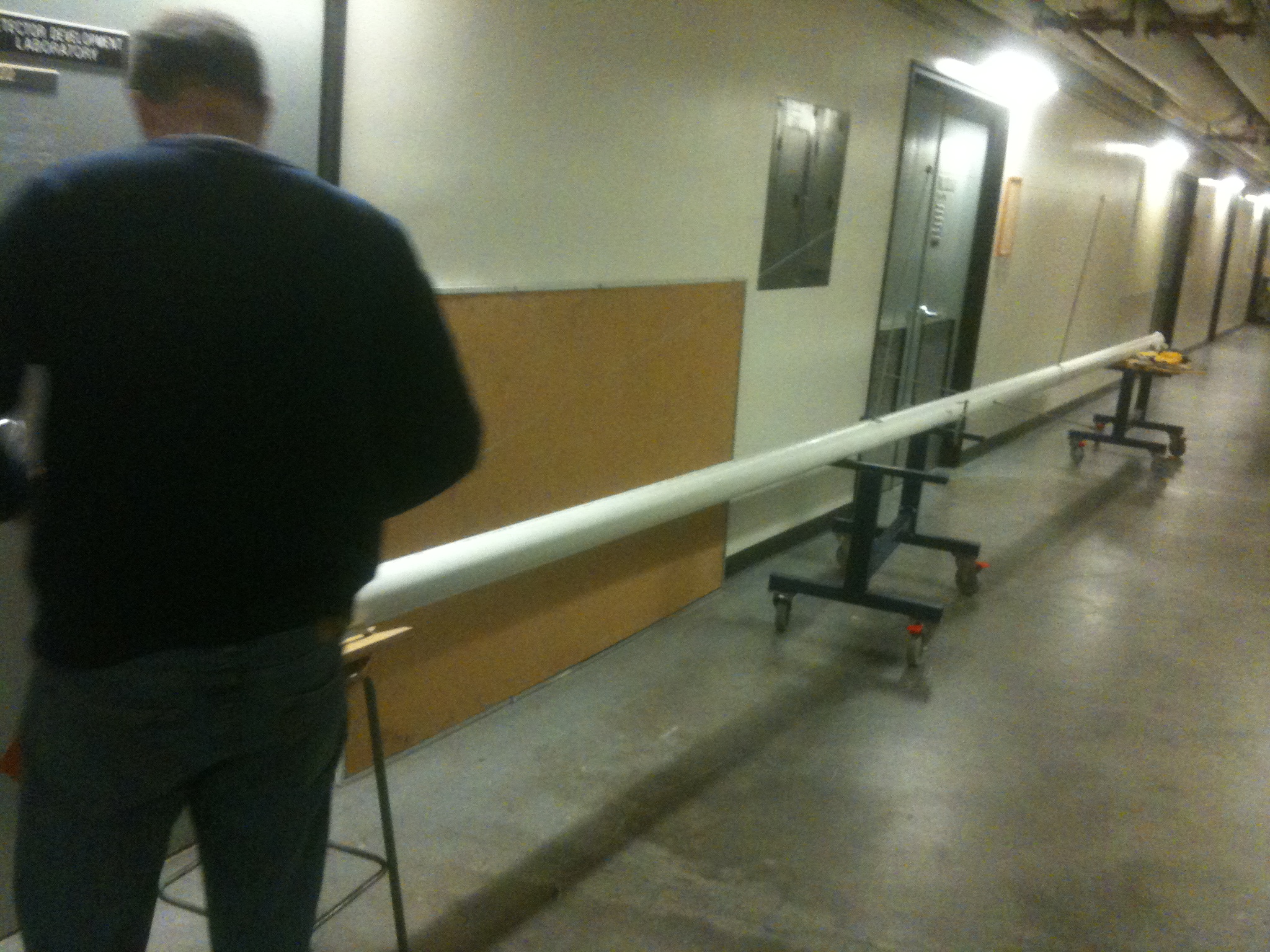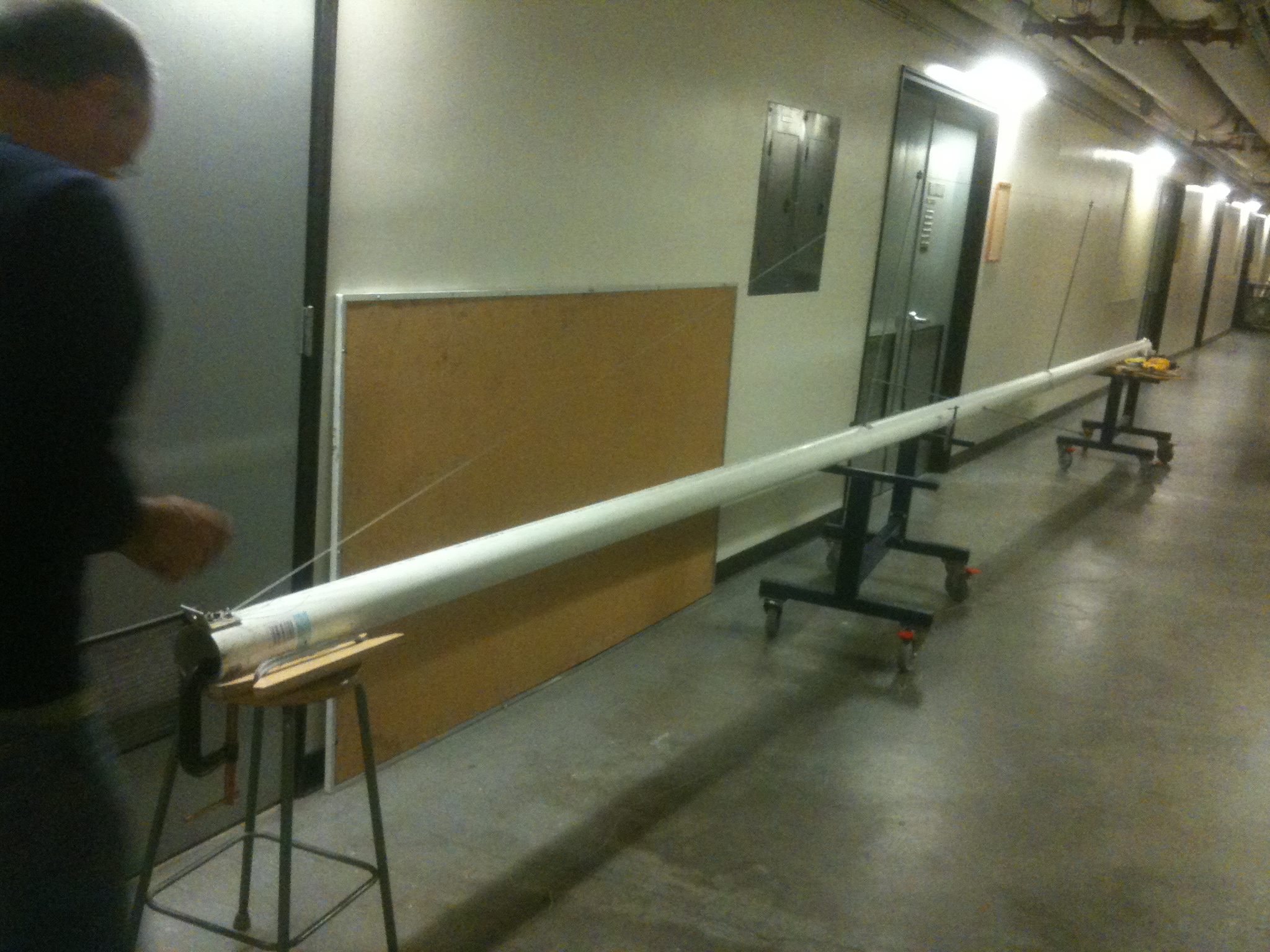 As you can see (faintly), he affixed side-struts and guy wire to the PVC pole, to prevent it from bending in either of the two transverse directions, so it can now be raised to vertical, from horizontal, without bending or breaking. The survey-tripod-mounted device to cross-check yaw-pitch-roll information from the gondola (e.g., on days before/after flights) is constructed now, thanks to Mark Lenckowski -- photo at: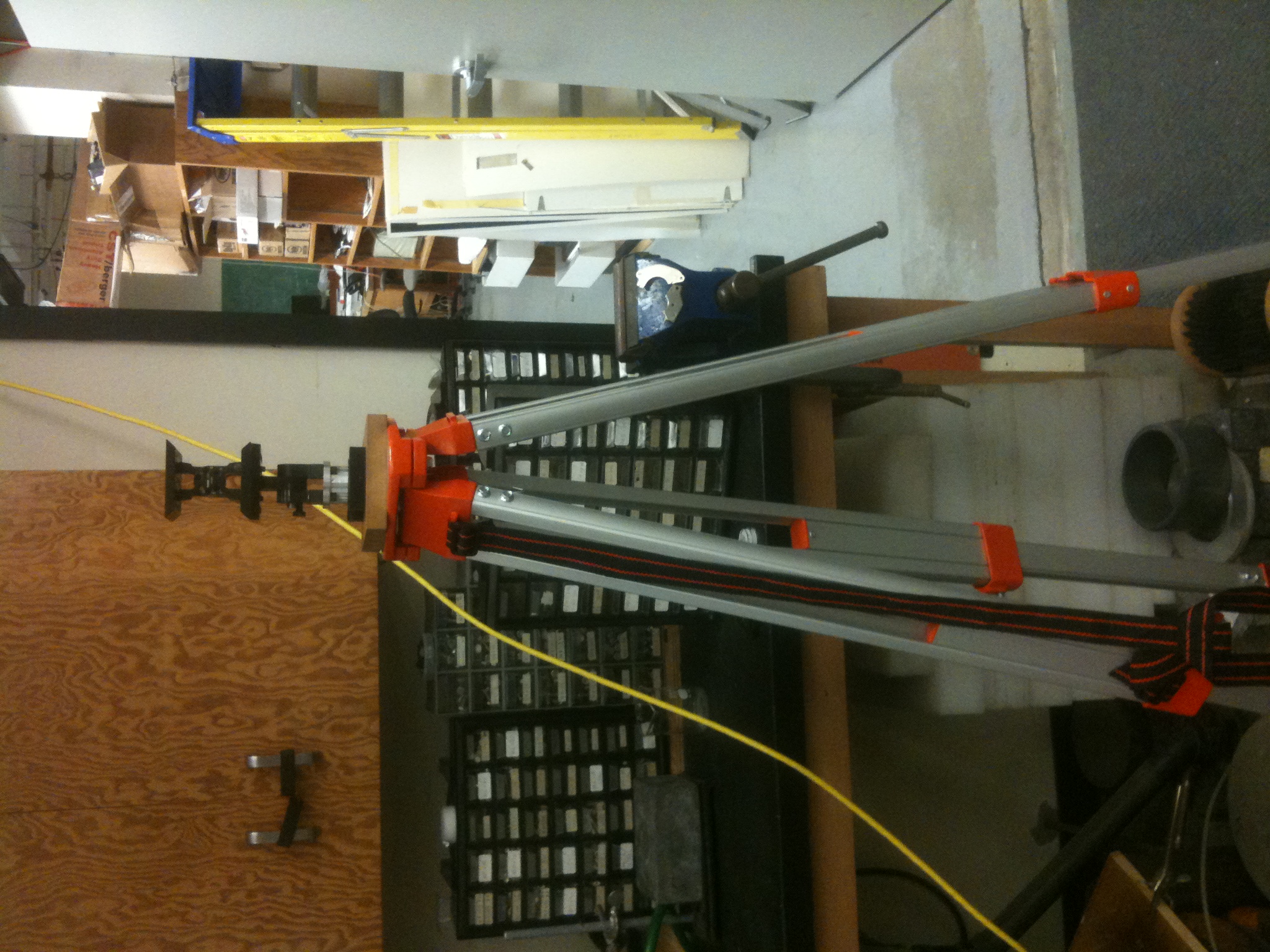 and all that remains to be done is to finish the small fitting between the device and the bottom of the payload. The purchased hardware in it includes both the survey tripod (
http://www.cpotools.com/cst-berger-60-alwi20-o-aluminum-tripod-with-quick-release--orange-/cstn60-alwi20-o,default,pd.html
), two adjustable angle mounts (
http://www.thorlabs.com/thorproduct.cfm?partnumber=AP180
), and a rotation mount (
https://www.thorlabs.com/thorproduct.cfm?partnumber=RP01
). That last fitting to attach (temporarily, pre- or post-flight) the upper adjustable angle mount to the payload landing gear has been started and will be completed here in the next couple weeks. We're currently revising the draft initial contractual agreement from our colleagues at Globalstar Canada regarding 2 initial SPOT Trace devices (and their service plans) for the educational side-project for the upcoming NATO SPS application, in which classrooms in elementary and high schools could launch company-donated SPOT Traces using party balloons (or a more environmentally-friendly version thereof), and track them to learn more about winds at different levels in Earth's atmosphere. Another next step, software-wise, is to add a bunch of additional data information to the telemetry communication between ALTAIR-Victoria:
and the Capella ground station: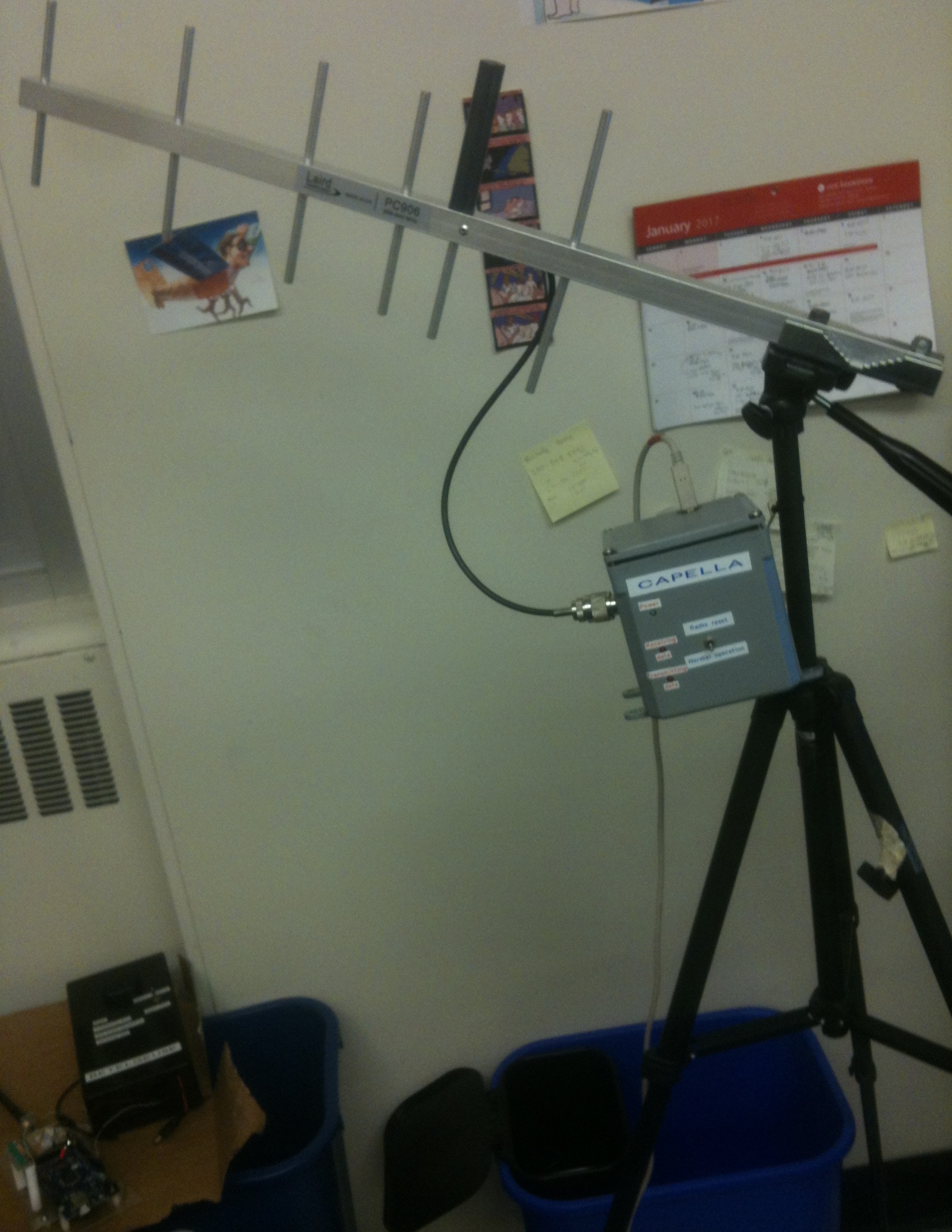 and to update the control and monitoring software to incorporate the telemetered info, and also implement onboard SD card data storage, as well as storage of the telemetered info. Houman will send Cordell and/or us updated sections of his master's thesis soon -- that information will be extremely useful to us going forward. Also, Susana and Nathan, it would be very helpful for us all to get the JHU students' final writeup when you have a chance. Our next grant applications will be a NATO "Science for Peace and Security" application, together with Australian colleague partners. That's all I remember, please send things that I forgot. Next telecon
*
NOW!!!
*
, at our usual 5:00 pm Eastern time. Cheers, talk to you all
now
-- thanks all!!!!! justin --
jalbert - 2018-05-24