Discussion Forum
»
General
»
No telecon tomorrow (Thursday), but will post progress report!
Hi all! Our regular Arnold Gaertner (NRC) is out of town until late November, and also I've been working hard on an NSERC application, so there will be no telecon tomorrow (we'll have one 2 weeks from tomorrow instead), but I'll e-mail an update tomorrow on continued progress on the photodiode precision amplifier board construction, updates on station-keeping prediction and simulation software, on the pre- and post-flight cross-calibration integrating sphere, and on the windowless photodiode orders from Hamamatsu and OSI Optoelectronics (now both sent to and received by Chris Stubbs). So stay tuned for tomorrow's update! Thanks all! justin --
jalbert - 2018-11-01
Hi all! My apologies for the one week delay in posting this progress report: I just wanted to wait until we had some new good news to report, and now we have three small but important pieces of good news, detailed below. We now have the draft preliminary board layout of our new precision photodiode amplifier board, from Andrew Macdonald in the UVic phys & astro electronics shop:
with its associated (and updated) schematic:
Its first test board will go out for fab on Wednesday next week. All of our 12 OSI Optoelectronics UV-015 photodiodes and 11 windowless Hamamatsu S2386-8K photodiodes have now arrived at the Stubbs lab, and I'll pick all of ours up the next time I'm in New England (early 2019). AIFCOMSS software is now both actively monitoring and controlling ALTAIR directly via the Capella ground station, as can be seen in the following photos:
and
with all the (many many thousands of lines of) associated software, of course, in:
https://github.com/ProjectALTAIR/ALTAIROnboardArduinoSoftware
and
https://github.com/ProjectALTAIR/AIFCOMSSwithCUPredictorTest
Note that I still do need to add the orientation and acceleration info to the list of data that's telemetered down, and fix a few small but important issues with some of the present telemetered data items, but the telemetered information in both directions is generally working well, and all downlinked data is generally being displayed and uplinked commands are being obeyed properly. For both future ALTAIR updates, and also for our ORCASat
CubeSat
, Integrated Optics (
https://integratedoptics.com
) in Lithuania is now making "Matchbox" multi-wavelength laser diode modules, such as
https://integratedoptics.com/wavelength-combiners/matchbox-diode-laser-combiner;-mm-fiber-405nm-445nm-520nm-638nm
, that are much more compact and lightweight than our present laser diode modules from World Star Tech, e.g.
http://www.worldstartech.com/products/temperature-controlled-lasers/tec-red-laser/
. We're presently talking with Integrated Optics regarding a quotation for an optimal "Matchbox" multi-wavelength laser diode module for us. Mark Lenckowski has completed the stabilized pole for the new 10-meter-high drop test setup at Victoria: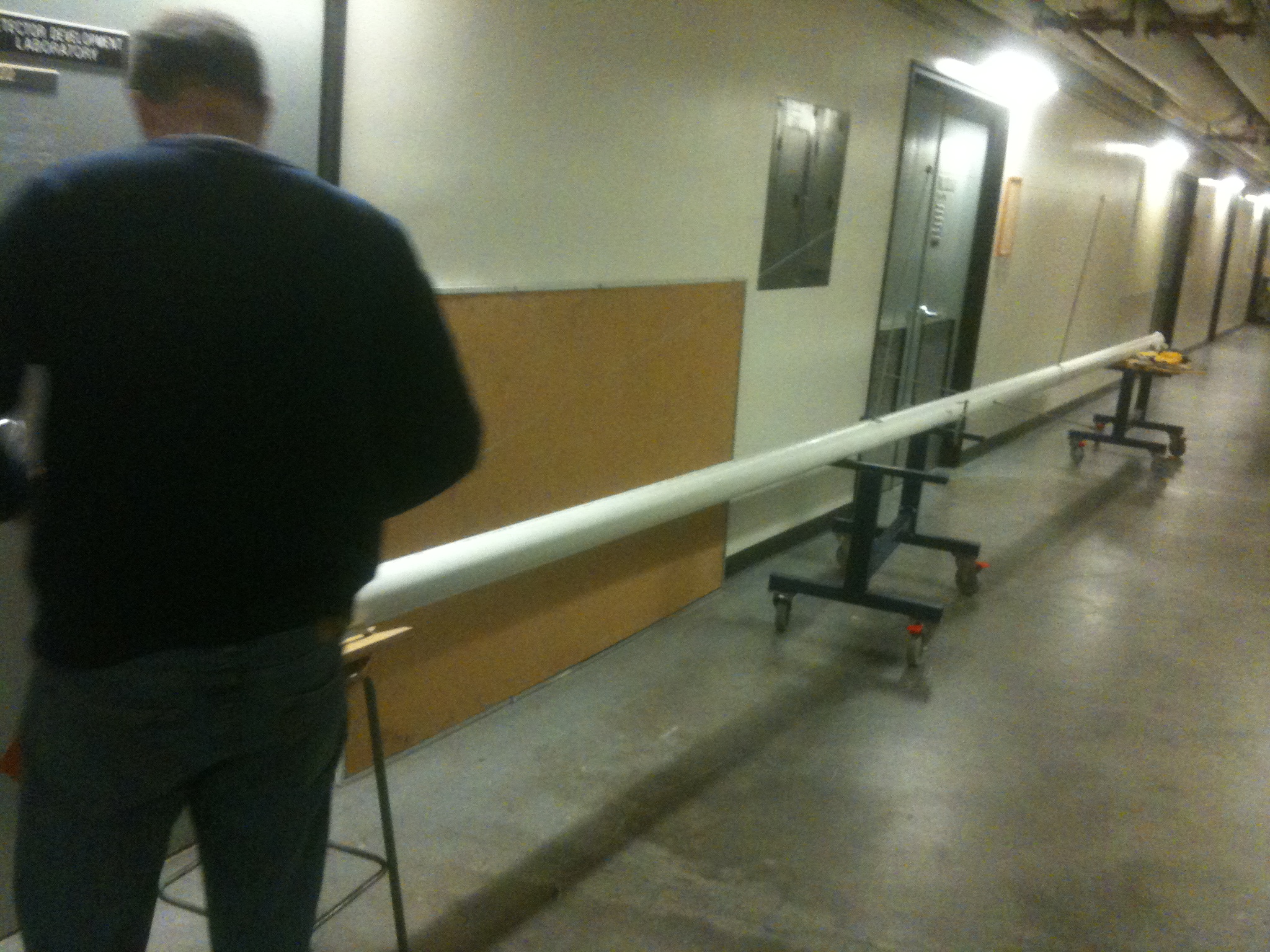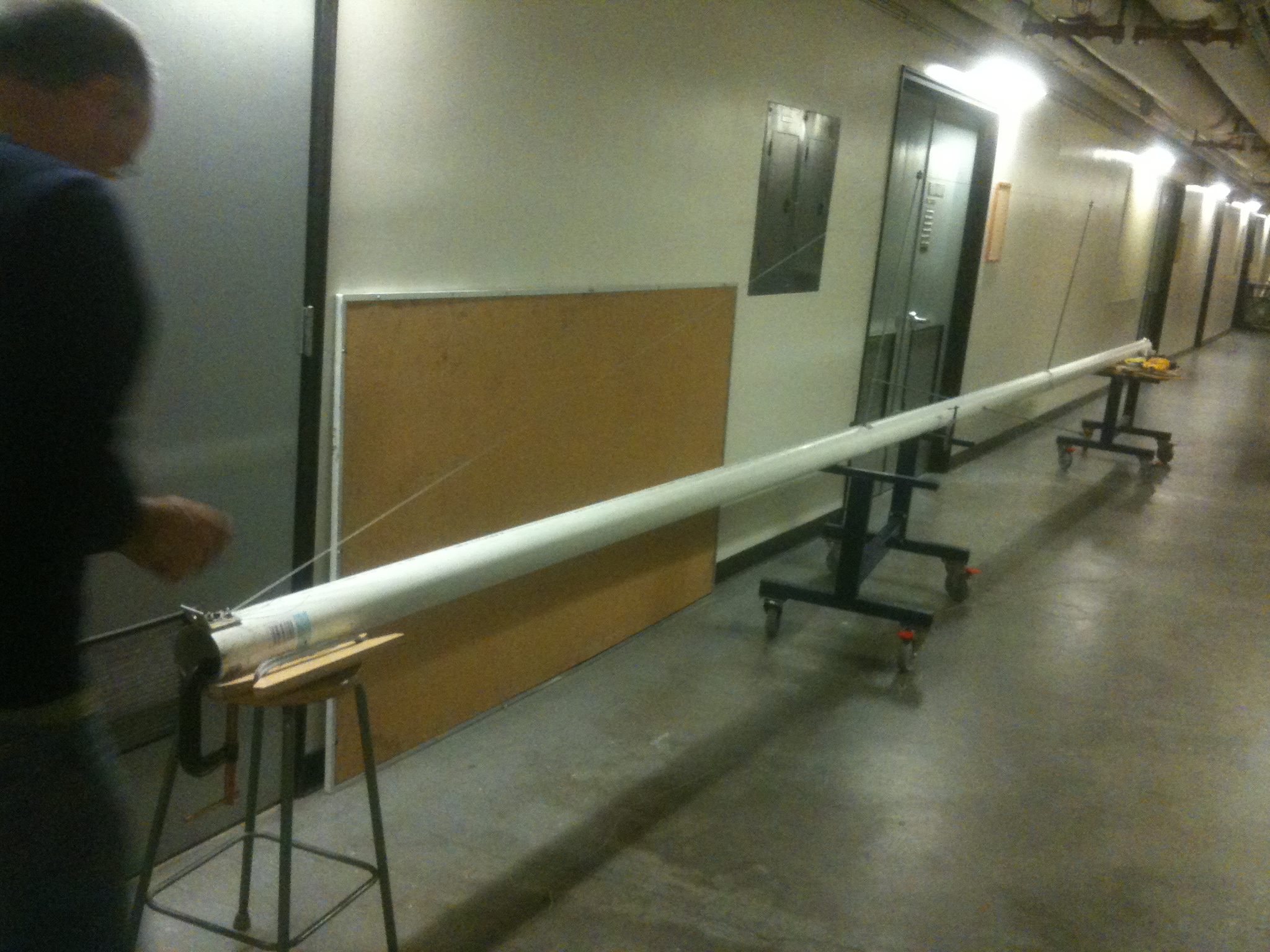 As you can see (faintly), he affixed side-struts and guy wire to the PVC pole, to prevent it from bending in either of the two transverse directions, so it can now be raised to vertical, from horizontal, without bending or breaking. The survey-tripod-mounted device to cross-check yaw-pitch-roll information from the gondola (e.g., on days before/after flights) is constructed now, thanks to Mark Lenckowski -- photo at: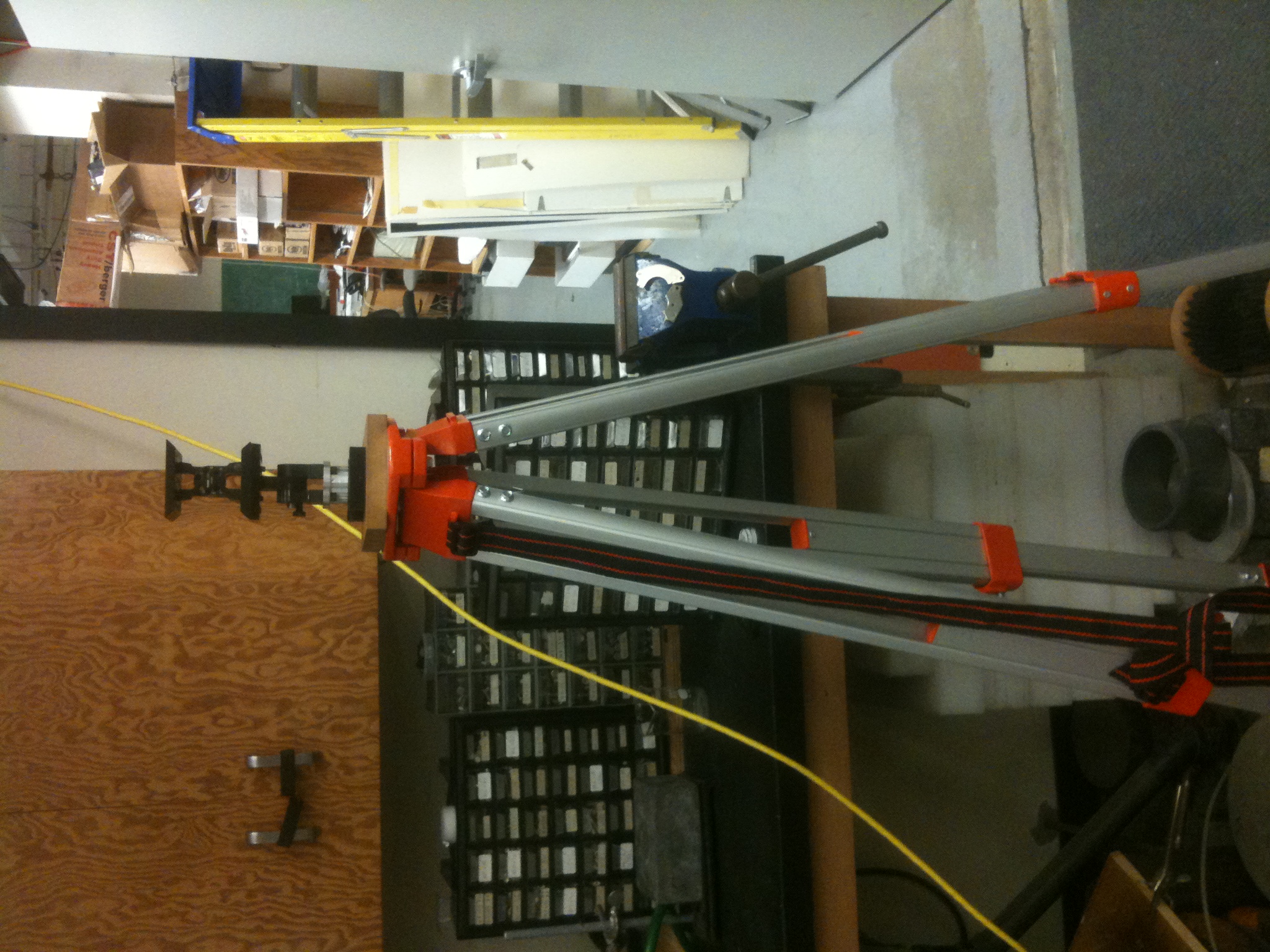 and all that remains to be done is to finish the small fitting between the device and the bottom of the payload. The purchased hardware in it includes both the survey tripod (
http://www.cpotools.com/cst-berger-60-alwi20-o-aluminum-tripod-with-quick-release--orange-/cstn60-alwi20-o,default,pd.html
), two adjustable angle mounts (
http://www.thorlabs.com/thorproduct.cfm?partnumber=AP180
), and a rotation mount (
https://www.thorlabs.com/thorproduct.cfm?partnumber=RP01
). That last fitting to attach (temporarily, pre- or post-flight) the upper adjustable angle mount to the payload landing gear has been started and will be completed here in the next couple weeks. We're currently revising the draft initial contractual agreement from our colleagues at Globalstar Canada regarding 2 initial SPOT Trace devices (and their service plans) for the educational side-project for the upcoming NATO SPS application, in which classrooms in elementary and high schools could launch company-donated SPOT Traces using party balloons (or a more environmentally-friendly version thereof), and track them to learn more about winds at different levels in Earth's atmosphere. Houman will send Cordell and/or us updated sections of his master's thesis soon -- that information will be extremely useful to us going forward. Also, Susana and Nathan, it would be very helpful for us all to get the JHU students' final writeup when you have a chance. Our next grant applications will be a NATO "Science for Peace and Security" application, together with Australian colleague partners. Our next telecon will be in three weeks from now (on Nov. 29), but I might send another update before then. (And I'll send one by then, at the very latest.) Cheers, talk to you all in 3 weeks! -- thanks all!!!!! justin --
jalbert - 2018-11-09