Discussion Forum
»
General
»
Telecon tomorrow (Thursday) @ 5 pm Eastern time
Hi all! Telecon tomorrow (Nov. 29 in North America, Nov. 30 in Australia) at the regular time: 5 pm Eastern (2 pm Pacific, noon Hawaii, 23.00 European, 8 am Eastern Australia). Photodiode precision amplifier boards were fabricated today at OSH Park and should be sent back to us by Monday, updates on station-keeping prediction and simulation software, on the pre- and post-flight cross-calibration integrating sphere, and on the windowless photodiodes from Hamamatsu and OSI Optoelectronics (both received) -- I'll post a summary shortly! More discussion items for tomorrow's telecon include: flight/telescope plans and tests; construction, drop testing, and other tests of the new gondolas/payloads; light sources and light source modelling; goniometric and pre- and post-flight calibration; propulsion work; nanosat bus and payload solid models; computing / website / TWiki forums and e-mails; grant applications; and recap of schedules. Here's how to connect: 1) Open Skype on your computer (note that of course, you should first install Skype,
http://www.skype.com
, on your machine if you haven't already). 2) In the "Contacts" menu, add me ( jalbertuvic ) as a contact, if you haven't already. 3) Just wait for me to Skype-call you at the usual time (5 pm Eastern, 2 pm Pacific, etc). 4) If there is any trouble, or if you don't get a Skype-call for some reason and would like to join, please just send me an e-mail (
jalbert@uvic.ca
). Here's the tentative agenda: I) Flight & telescope plans, and upcoming tests II) Construction, drop tests, and other tests of the new gondola and payload III) Diffused light source and its modelling, pre- and post-flight calibration, and goniometric calibrations IV) Solid modelling V) Computing/website, including recent flight control and simulation progress VI) Grant applications VII) AOB Talk to you all tomorrow, thanks!!! justin --
jalbert - 2018-11-29
Hi all! Here's a quick progress report on ALTAIR balloon work done over the past three weeks and a reminder of our telecon in 45 minutes -- please just reply with (or let me know) any corrections -- thanks! : Our new precision photodiode amplifier boards have now been fabricated, and they are presently being sent back to us to populate with components. Here are the top and bottom views of the board:
and the mask layers and RF shield (the latter of which is presently being fabricated in the machine shop here):
and the corresponding schematic:
All of our 12 OSI Optoelectronics UV-015 photodiodes and 11 windowless Hamamatsu S2386-8K photodiodes have arrived at the Stubbs lab, and I'll pick all of ours up the next time I'm in New England (early 2019). AIFCOMSS software is actively monitoring and controlling ALTAIR directly via the Capella ground station, as can be seen in the following photos:
and
with all the (many many thousands of lines of) associated software, of course, in:
https://github.com/ProjectALTAIR/ALTAIROnboardArduinoSoftware
and
https://github.com/ProjectALTAIR/AIFCOMSSwithCUPredictorTest
We're now sending down the full list of data (including orientation and acceleration info), and have added the ability to switch to the backup GPS receiver, also and/or to the backup orientation/acceleration sensors, also and/or to the backup
RFM23BP
radio, but I still need to fix: 1) After switching to the backup
RFM23BP
radio, commands send up from the ground station are now longer obeyed, and also presently one can't switch back to the main DNT900 radio; 2) The ground station SHX144 (also backup) radio is presently not working, so we are presently getting a pair of additional ones of those; and 3) I still need to properly output info such as RSSI and dropped packet percentage. For both future ALTAIR updates, and also for our ORCASat
CubeSat
, Integrated Optics (
https://integratedoptics.com
) in Lithuania is now making "Matchbox" multi-wavelength laser diode modules, such as
https://integratedoptics.com/wavelength-combiners/matchbox-diode-laser-combiner;-mm-fiber-405nm-445nm-520nm-638nm
, that are much more compact and lightweight than our present laser diode modules from World Star Tech, e.g.
http://www.worldstartech.com/products/temperature-controlled-lasers/tec-red-laser/
. We're presently talking with Integrated Optics regarding a quotation for an optimal "Matchbox" multi-wavelength laser diode module for us. Mark Lenckowski has completed the stabilized pole for the new 10-meter-high drop test setup at Victoria: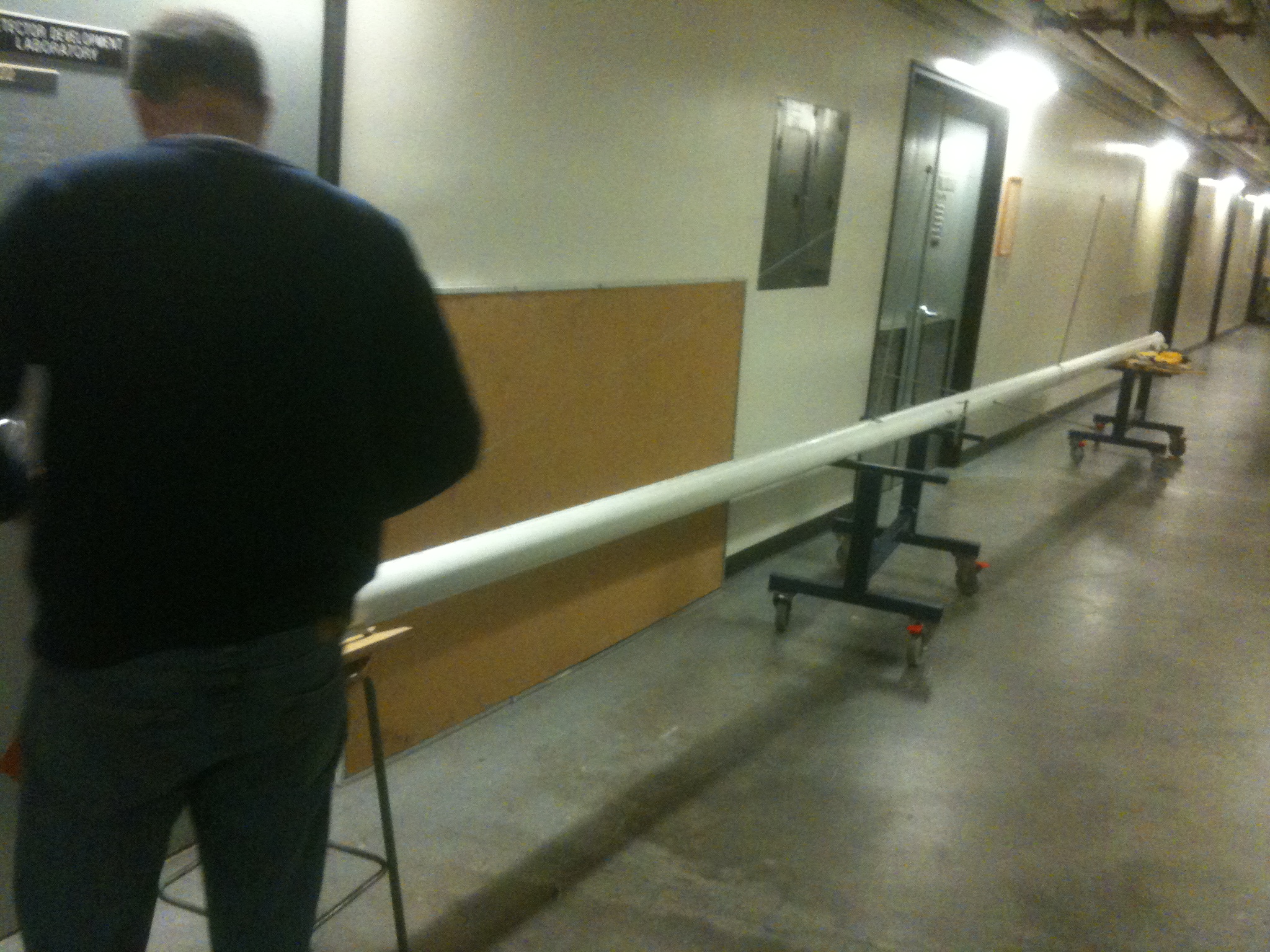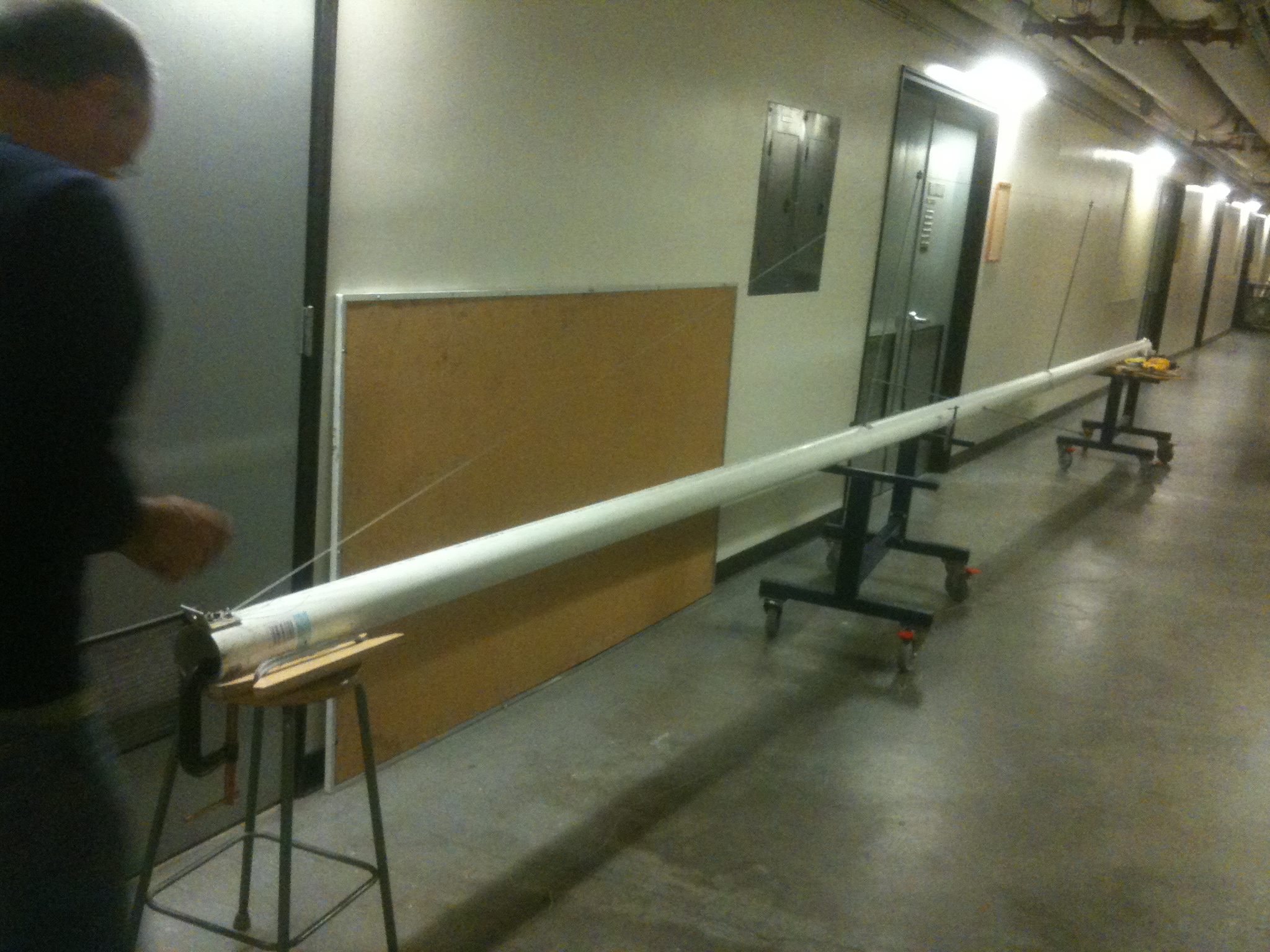 As you can see (faintly), he affixed side-struts and guy wire to the PVC pole, to prevent it from bending in either of the two transverse directions, so it can now be raised to vertical, from horizontal, without bending or breaking. The survey-tripod-mounted device to cross-check yaw-pitch-roll information from the gondola (e.g., on days before/after flights) is constructed now, thanks to Mark Lenckowski -- photo at: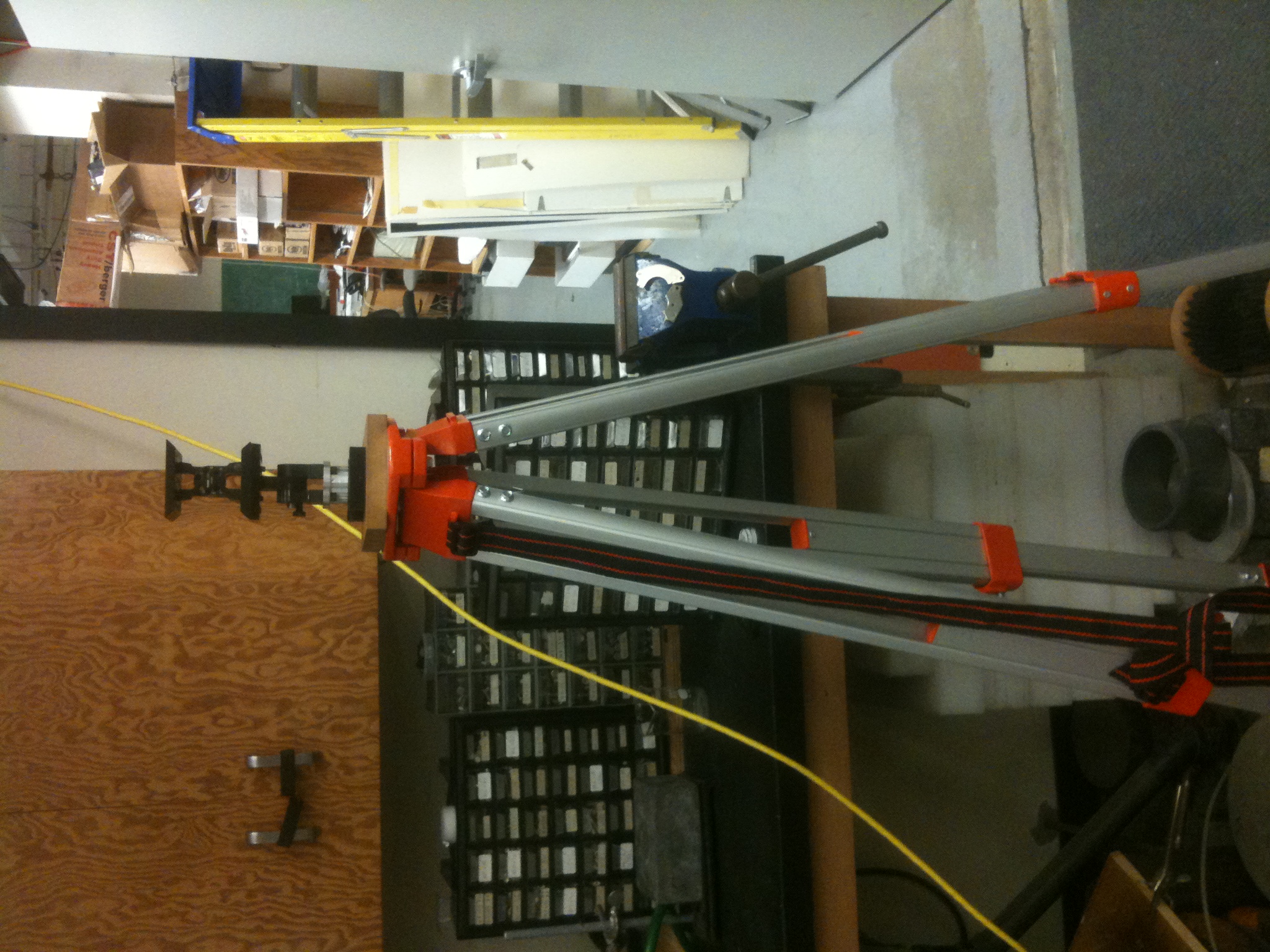 and all that remains to be done is to finish the small fitting between the device and the bottom of the payload. The purchased hardware in it includes both the survey tripod (
http://www.cpotools.com/cst-berger-60-alwi20-o-aluminum-tripod-with-quick-release--orange-/cstn60-alwi20-o,default,pd.html
), two adjustable angle mounts (
http://www.thorlabs.com/thorproduct.cfm?partnumber=AP180
), and a rotation mount (
https://www.thorlabs.com/thorproduct.cfm?partnumber=RP01
). That last fitting to attach (temporarily, pre- or post-flight) the upper adjustable angle mount to the payload landing gear has been started and will be completed here in the next couple weeks. We're currently revising the draft initial contractual agreement from our colleagues at Globalstar Canada regarding 2 initial SPOT Trace devices (and their service plans) for the educational side-project for the upcoming NATO SPS application, in which classrooms in elementary and high schools could launch company-donated SPOT Traces using party balloons (or a more environmentally-friendly version thereof), and track them to learn more about winds at different levels in Earth's atmosphere. Houman will send Cordell and/or us updated sections of his master's thesis soon -- that information will be extremely useful to us going forward. Also, Susana and Nathan, it would be very helpful for us all to get the JHU students' final writeup when you have a chance. Our next grant applications will be a NATO "Science for Peace and Security" application, together with Australian colleague partners. Our next telecon is in 45 minutes from now (5 pm Eastern, 2 pm Pacific), with Skype connection info copied in the e-mail below. Cheers, talk to you all in 45 minutes! -- thanks all!!!!! justin --
jalbert - 2018-11-29