Discussion Forum
»
General
»
Telecon tomorrow (Thursday) @ 5 pm Eastern time
Hi all, Telecon tomorrow (Jun. 10 in North America, Jun. 11 in Australia) at the regular time: 5 pm Eastern (2 pm Pacific, 11 am Hawaii, 23.00 European, 7 am Eastern Australia). Our Guildline 9334A metrological calibration resistor (1 MOhm -- or more specifically (999999.5 +- 3.5) ohms at 95% CL, per their calibration of it) arrived here yesterday, and is already giving some of our electrons a good workout, just as advertised. We have some more recent updates on AIFCOMSS, and Andrew Macdonald is still working on the layout for the new ALTAIR form-factor version of the ORCASat transimpedance amp board. Progress also continues to be made on optical simulation and on measuring electrical characteristics of the photodiode readout. More discussion items for tomorrow's telecon include: flight/telescope plans and tests; construction and lab tests of the new gondolas/payloads; light sources and light source modelling; goniometric and pre- and post-flight calibration; propulsion work; nanosat bus and payload solid models; computing / website / TWiki forums and e-mails; grant applications; and recap of schedules. I'll send a progress report before the telecon tomorrow. Here's how to connect: 1) Open Skype on your computer (note that of course, you should first install Skype,
http://www.skype.com
, on your machine if you haven't already).
2) In the "Contacts" menu, add me ( jalbertuvic ) as a contact, if you haven't already.
3) Just wait for me to Skype-call you at the usual time (5 pm Eastern, 2 pm Pacific, etc).
4) If there is any trouble, or if you don't get a Skype-call for some reason and would like to join, please just send me an e-mail (
jalbert@uvic.ca
). Here's the tentative agenda: I) Flight & telescope plans, and upcoming tests
II) Construction, drop tests, and other tests of the new gondola and payload
III) Diffused light source and its modelling, pre- and post-flight calibration, and goniometric calibrations
IV) Solid modelling
V) Computing/website, including recent flight control and simulation progress
VI) Grant applications
VII) AOB Talk to you all tomorrow, thanks!!!
justin --
jalbert - 2021-06-09
Hi all, My apologies for the delay! -- here's an update on recent ALTAIR balloon work, minutes of the last meeting on May 27 (attendees Arnold Gaertner [NRC] and me), and a reminder of the telecon in 20 minutes(!) from now: While Andrew Macdonald has been working on the ALTAIR form-factor version of the ORCASat transimpedance amp boards, Evan Moore has been continuing to test the ORCASat transimpedance amp boards themselves. He found that some voltage supply modifications to that board make large further reductions in the noise seen from the amplifier. Here is Evan's e-mail message from last week (on Jun. 1) regarding this:
Hi Justin and all,
Summary: Recent testing of the TIA has exposed some noise effects I was not aware of before that was causing problems on the TIA board. Simple hardware changes alleviate the problems, and improve overall performance of the TIA. A longer discussion: Effect #1: ADC AVDD current draw In the design that is in our lab (and previously released to you Andrew from me), the AVDD rail of the ADCs are powered from an
OpAmp
buffer, which takes the reference 5V0 voltage from the centralized voltage reference as a setpoint. The theory was that this buffer would provide enough current to supply the ADC during sampling and "isolate" it from the reference in case the ADC pulls the rail down at all. The issue is that in reality, the OPA189 used for this cannot compensate for the ADC drinking current to fill its sampling capacitor fast enough. This pulls down the AREF_5V+ rail, which also is tied to the positive reference input of the TIA. The net effect is that the TIA signal is heavily distorted when the ADC tries to sample. This appeared on the ADC output signal as white noise, as the frequency of this distortion is very high (higher than the sampling frequency). This is why I did not know about this problem until recently, as on the ADC output it just looks like noise picked up from elsewhere in the lab. Fortunately the solution for this is straightforward. To fix this, instead I power the ADC AVDD rail from a 5V LDO which can provide a large amount of current, and can also be supplied with significant bulk capacitance on its output rail (see the "power" tab of the attached schematic). This also separates the ADC AVDD rail from the sensitive 5V reference rail for the TIA. The capacitance is important as this helps alleviate the problems from the ADC quickly trying to draw some current to take a sample. The original buffer concept could not have any capacitance on its output as this would cause the buffer to become heavily unstable. I have tested this configuration and it works much better (no distortion, noise figures much improved, see below). All of this does beg the question of how I managed to get lower noise readings before hand, with this problem present on the board, in the earlier stages of testing. Strictly I'm not sure, but originally all the buffer op-amps had been underpowered by mistake (voltage rail was too low to accommodate their headroom requirement). This might have had the knock-on effect of suppressing the distortion, at the behest of not being designed properly and so likely doomed to fail during operation. I will say that in previous tests I had to work very carefully and setup very delicate noise-protection setups to get the noise figures I originally had. Now, these provided noise figures here are with the TIA sitting on the bench in the open-air, powered by a crappy benchtop power supply through long, untwisted unshielded wires, no external shielding of any kind and these new results are still on par with the best results I ever got in previous testing. So overall I would say that this simple change in hardware provides a significant improvement in performance. Effect #2: Op-amp Chopper Waveform Artifact Another interesting artifact that I found was the presence of a switching waveform of ~ 14KHz on the output of the AD8638. I had originally figured that this was the result of noise pickup from somewhere in the lab. But after some research I found out that this is actually a result of the chopper stabilizing topology and is quite common for such op-amps. Basically the artifact I observe on the TIA output is a result of the internal chopper switching occurring, which follows from the AD8638 datasheet which shows a spike in the noise voltage spectrum of the device at around 14KHz. I further confirmed this is a result of the chopper by switching in an LM741 op-amp, which has no such chopper topology, and found that there is no artifact whatsoever on the output. Now, this effect does not impact ORCASat overall that much, as the new noise figures previously discussed were made using the AD8638, so obviously this switching waveform happens far too quickly for the ADC to register it. But internet research confirmed that this is indeed a tradeoff of using chopper-stabilized op-amps, in that they have this noisy artifact but are extremely stable. Since its the stability we care about we should certainly not consider switching op-amps, and by no means do I have any such plans to do so. This discussion is moreover to gain a better understanding of the system in general. As a final minor design change I will be implementing an RLC notch filter on the TIA output before the ADC to at least have the option of doing something to suppress this waveform (if we wanted to for whatever reason) since I'm already making design changes as discussed above and its very easy to put that in. If this is detrimental to ALTAIR however, this might be something to think about when optimizing the TIA for that design. Note that we are pushing a PCB order out soon for ORCASat, so these changes will get to be implemented very quickly into hardware on this side. Again apologies I did not recognize this problem sooner, I have been quite busy putting out other fires on the project in recent months and haven't spend much time with the TIA recently. Regards, Evan Thus, Evan has made this attached new schematic for the ORCASat transimpedance amp board:
which can be compared with his previous ORCASat transimpedance amp board schematic:
Evan has kludged this change onto the current board, but will fabricate it into hardware (per his message) in the next board fabrication order within a couple of weeks (he has also laid out the revised board into a Gerber file). Meanwhile, Andrew Macdonald has adapted Evan's change for the schematic of the ALTAIR version of the board, as shown in his updated schematic here:
which can be compared with his previous board schematic:
Andrew should have layout and Gerber files for the ALTAIR version of the board by next week, and will send them out for fabrication the week after. Summer students Colton Broughton, Sarah Alshamaily, and Will Stokes are working on installing AIFCOMSS (
https://github.com/ProjectALTAIR/AIFCOMSSwithCUPredictorTest
) on their laptops, and seeing what updates need to be made on it. Two things that we know most definitely need updating (or, rather, creating) are the station-keeping software for AIFCOMSS, and the online command-handling within the onboard Arduino software -- but right now the students are seeing if there are any other issues needing fixing with AIFCOMSS on any of the 3 platforms (
MacOS
, Windows, Linux). I still need to test out out Radiometrix SHX1 144 MHz transceiver modules that were returned to us last month from Radiometrix (following their firmware update to fix the BUSY output):
as well as our two 144 MHz Raveon
M8S
data modem transceivers:
Once we get our 144 MHz transceivers settled and back into the ALTAIR gondola, we'll do some outdoor drop testing of the actual gondola. (We've done all the outdoor drop tests I can think of doing with our dummy gondola.) And we also still need to test out our new DFRobot SEN0177 payload aerosol monitors that we have here:
As mentioned in my e-mail yesterday, we finally received our metrological 1MOhm resistor from Guildline the day before yesterday! So, we can now use it together with our precision 1/1000 voltage divider, using one of these precision matched combined resistors:
https://www.digikey.ca/en/products/detail/caddock-electronics-inc/1776-C6815/4360753?s=N4IgTCBcDaIIwHYEDYC0BhZAOOBWVAcgCIgC6AvkA
and an ultra-low-offset-voltage op-amp:
https://www.digikey.ca/en/products/detail/texas-instruments/TLC2652AIP/277463?s=N4IgTCBcDa4JwDYC0BGAHOpBWJA5AIiALoC%2BQA
, and also our PDVS2mini calibrated voltage source (
https://www.ianjohnston.com/index.php/onlineshop/handheld-precision-digital-voltage-source-2-mini-detail
), so that we can reliably and very precisely put 1 uV (or even 500 nV) through the Guildline 1MOhm resistor to have a very precise 1 pA (and/or even 500 fA) current source for calibrating the TIA boards. We now finally have all of this hardware in hand, and now just need to use it! I've begun to look some more at MEEP (
https://meep.readthedocs.io/en/latest/
) for finite-difference time domain (FDTD) simulation of integrating sphere output, but I haven't yet had time to make any significant progress there -- I'm hoping to do that in the next couple of weeks. It will be interesting to compare that with ray tracing simulations, when I can get a chance to do that! Engineering students Josh Gage and Evan Moore found that the "wings" that Josh had found in the laser diode light output distributions:
were due to how the diode was mounted in the heat sink. When the diode is mounted properly and carefully, the wings go away. We also have our 10 Hamamatsu S12698-01 photodiodes and 3 Thorlabs FDS100-NOCAN photodiodes (those Thorlabs ones have their windows removed) here in Victoria:
I've given them to Evan to try out -- he's taking a few weeks to ramp up, and will produce some linearity, etc., plots from them soon. The survey-tripod-mounted device to cross-check yaw-pitch-roll information from the gondola (e.g., on days before/after flights) is also constructed now, thanks to Mark Lenckowski -- photo at: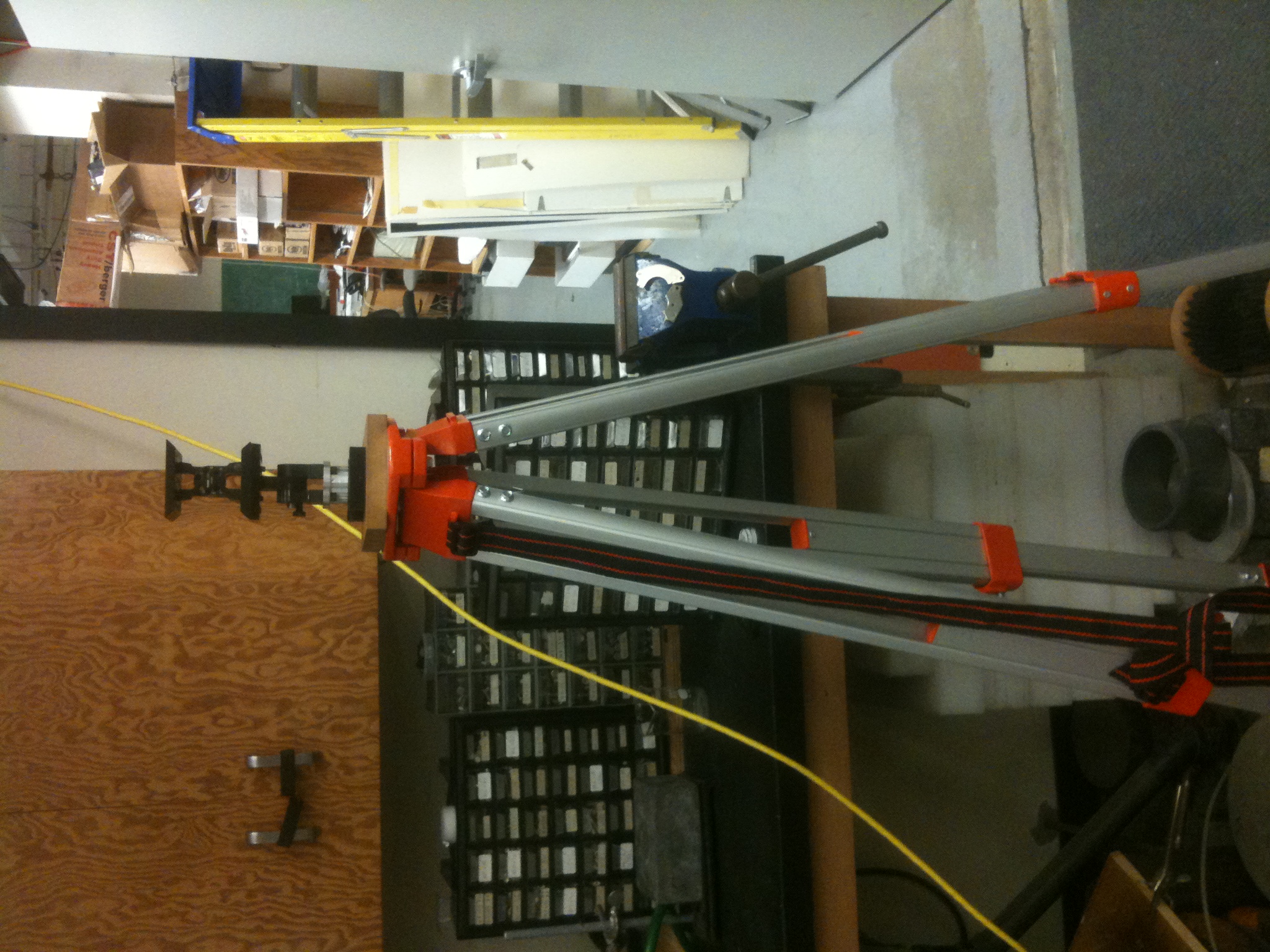 and all that remains to be done is to finish the small fitting between the device and the bottom of the payload. The purchased hardware in it includes both the survey tripod (
http://www.cpotools.com/cst-berger-60-alwi20-o-aluminum-tripod-with-quick-release--orange-/cstn60-alwi20-o,default,pd.html
), two adjustable angle mounts (
http://www.thorlabs.com/thorproduct.cfm?partnumber=AP180
), and a rotation mount (
https://www.thorlabs.com/thorproduct.cfm?partnumber=RP01
). That last fitting to attach (temporarily, pre-or post-flight) the upper adjustable angle mount to the payload landing gear has been started and will be completed here in the next couple weeks. We're currently revising the draft initial contractual agreement from our colleagues at Globalstar Canada regarding 2 initial SPOT Trace devices (and their service plans) for the educational side-project for the upcoming NATO SPS application, in which classrooms in elementary and high schools could launch company-donated SPOT Traces using party balloons (or a more environmentally-friendly version thereof), and track them to learn more about winds at different levels in Earth's atmosphere. Houman will send Cordell and/or us updated sections of his master's thesis soon -- that information will be extremely useful to us going forward. Also, Susana and Nathan, it would be very helpful for us all to get the JHU students' final writeup when you have a chance. Next grant application will be a NATO "Science for Peace and Security" application (together with Australian colleague partners). Our next telecon is in 20 minutes from now -- see below for Skype instructions. Cheers, talk in 20 mins (!) from now -- thanks all! justin --
jalbert - 2021-06-10